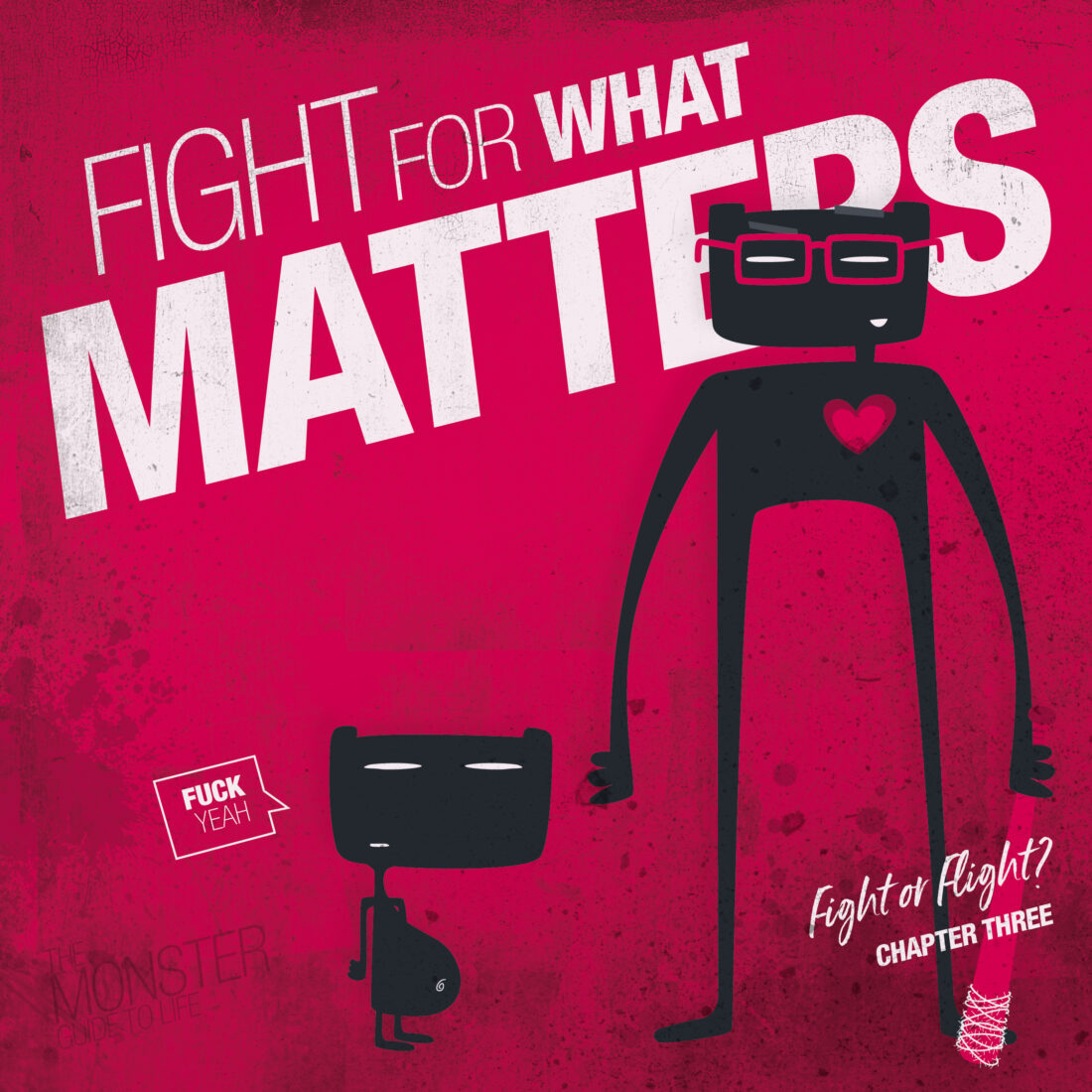 Fight For What Matters
Fight or Flight? – Chapter Three
Our survival instinct likes to choose the easier path which isn't always what's best for us. Going against that is always the more challenging, often more affirming path to take. So trust in ourselves is crucial when choosing how to live our lives.
To recognise the flaws in our survival instincts and go against them is massive. A giant middle-finger to trauma, our own and someone else's. It's a choice grounded in what matters to us, in our values, in who we are and why fighting for something we believe in is always the right choice to make.
It's why being present is so crucial in moments of fight or flight, there's a layer of truth we find inside ourselves, between the misty clouds we hover in during that frame of mind, we see great clarity, uninfluenced by our emotions and biases, and other peoples.
It's not easy, and is perhaps something quite catastrophic to ourselves that requires a deliberate effort to push through and enables us to see the deeper within ourselves and the energy flowing around us in any given situation. Whatever it is, however it happens – there are levels to self, to humanity, consciousness, love and truth that we know little about until we challenge the visceral survival and subconscious instincts within us.
Operating at our limits is the only place we truly find ourselves and experience living.
To fight leads us into that uncharted territory. We can of course get lost as we wrestle with that, with our demons and fears. But keep faith in your choice to fight, you would not have made it (you wouldn't keep making it) if it wasn't the right call to make. The right thing to do. Regret nothing, believe in yourself.
Some days change our lives forever, those days are often the hardest ones. Fight or flight is usually where we end up on those days. Know yourself and be present, you'll know what to do and never regret your choices.
Keep learning, keep faith and keep fighting for who you are. There are many things that are okay to lose or leave behind in life, people included, but your fight for self is not one of them.